2016 SHRM Learning System Champion Award Recieved!
Congratulations!

We are pleased to inform you that the CENTRAL DAKOTA HR ASSOCIATION is being awarded 2016 SHRM Learning System Champion status. Click here to learn more about this prestigious program.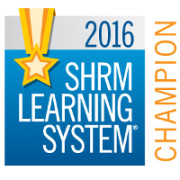 As you likely know, this award comes with various forms of recognition:
We will recognize SHRM Learning System Champions at the SHRM Volunteer Leaders' Summit in November.
SHRM Certification has strong momentum as we continue to see growth in the number of people who are SHRM certified, employer awareness and job postings citing SHRM certified as preferred or required qualifications, and growth across the country in SHRM chapters promoting SHRM certification to their members. To provide you with an update:
92,000+ people are SHRM certified
53,000+ SHRM-CP professionals
39,000+ SHRM-SCP professionals
We know we couldn't have done this without your support, so thank you for all that you have done to elevate the HR Profession! We appreciate all that you do to support SHRM, the HR Profession and our Education Partners offering SHRM Certification Preparation programs.
Again - Congratulations!
Alison Costello
SHRM/Holmes Corporation
Regional Partnership Manager
2975 Lone Oak Drive Suite 180
Eagan, MN 55121
Phone and Fax 651-905-2654